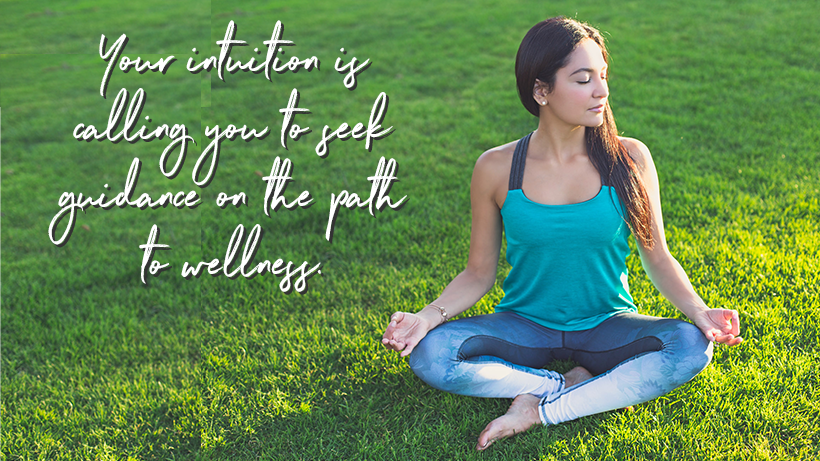 All paths have led you to this opportunity!
| | |
| --- | --- |
| | Are you burned out and exhausted all the time? |
| | Do you feel overwhelmed and anxious? |
| | Do you feel like your body aches all the time? |
| | Do you feel guilty for taking "me time"? |
| | Do you suffer from debilitating brain fog? |
| | Do you lack the confidence to take your power back and speak your truth? |
| | Are you tired of making progress only to fall back into old habits? |
Your path has led you here. I've been there before, and I am ready to help guide you to a healthier you!
As many of you can relate, it seemed as if I "had it all". I excelled in my corporate career due to having a genuine love for creating relationships with clients. I even had a long term relationship that led to an engagement. From the outside it seemed like a dream come true. However, on the inside I was stressed and my life felt "off".
Behind closed doors my relationship was highly toxic. I knew deep down that this man was not the person I could build a family with. However, I did not want to give up and run back to my family and leave the life I had created. So, I stuck it out for 3 and a half years. Until one day I could no long ignore the voice within telling me I deserved better. I trusted in that voice and the universe to guide me to where I needed to go. Through the help from my friends and family I started to see the universe conspired with me to build the life I had always dreamed of.
This is where I started to put myself first – to focus on my health and spirituality. My focus led me to the man of my dreams. Believe me, it was no "fairy tale" situation – this is real life after all. To this day, after a devastating 1st pregnancy resulting in a loss, 2 children and being an extremely sleep deprived mother, I have the beautiful family I've always dreamt of, and better yet, it is the family I know I deserve.
My true shift to wellness started when I was diagnosed with hypothyroidism in 2013, an autoImmune condition, I refused to believe it was my fate. Through this diagnosis and struggles with anxiety and extremely painful monthly cycles, I was presented with a powerful realization: I had been living in a constant state of fight or flight because my mind, body, and spirit were out of balance.
You too can live a life of ease, grace, and flow..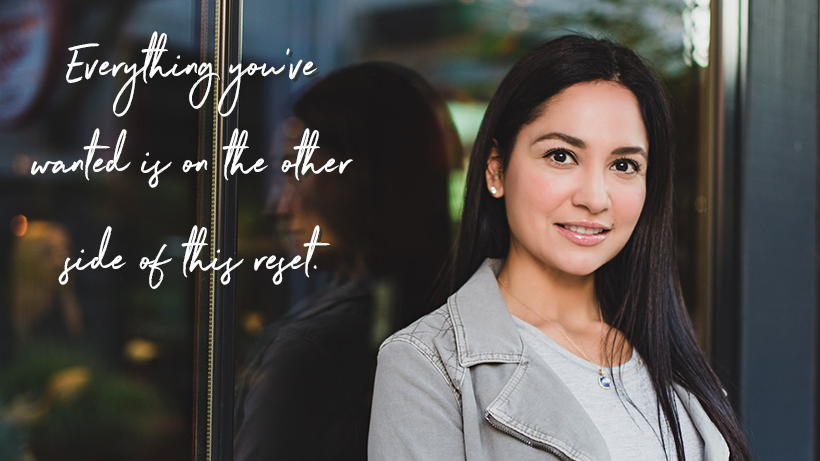 So… You are probably wondering… What is the Total Wellness Reset? .
TOTAL WELLNESS RESET IS A 6 WEEK GUIDED JOURNEY TO GAIN STABLE ENERGY, CLARITY, OF MIND, AND OVERALL HEALTH SO YOU CAN RESET YOUR BODY AND MANIFEST YOUR BEST LIFE. 

| | |
| --- | --- |
| | Ample health and happiness |
| | Vibrant energy |
| | Improved and restful sleep |
| | Cohesiveness in your relationships |
| | Balanced horomones and steady blood sugars |
| | Weight loss (5-20 lbs) |
| | Decreased anxiety and better stress management skills |
| | Feeling AMAZING and aging gracefully |

No quick fix pills or procedures. This is about creating balance Body, Mind, and Spirit. .
During our 6 weeks together we will be covering the following:
| | |
| --- | --- |
| | HYDRATION: Importance and impact of hydration on the body, mind and neurological processes. |
| | IMMUNITY: Building a Bulletproof Immunity |
| | NUTRITION: Become aware of how food can be used to fuel your body |
| | MOVEMENT: How moving your body each day will impact your overall well being. |
| | DETOXING: Become empowered to recognize the toxic areas that keep so many sick. |
| | ENERGY: Increase your energy levels without caffeine or stimulants. |
| | MEDITATION & BREATHWORK |
| | MORE BALANCE W/SUPPORT: Amazing Alternative Therapies |
I teach based on my proven AWARE Method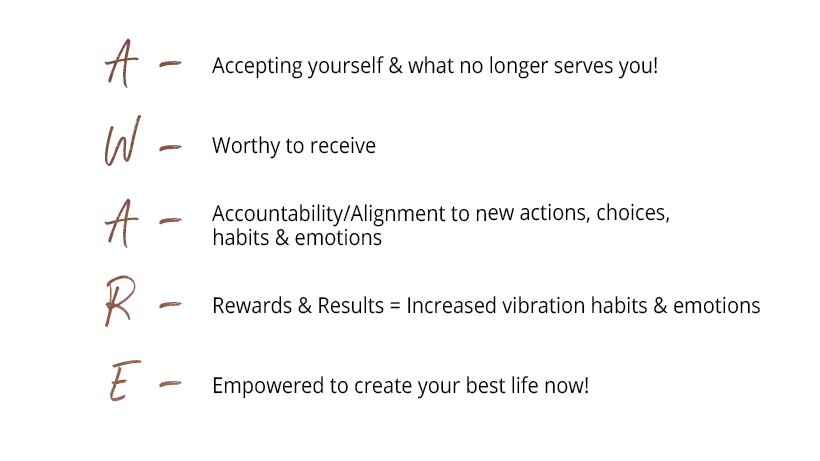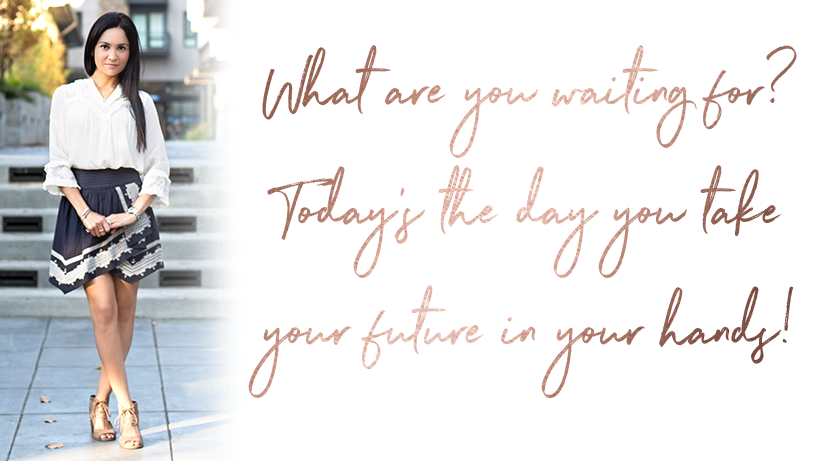 What clients are saying about Total Wellness Reset
I am very grateful for the work Olga has done with me. When we began working together I was weaning off pharmaceutical medications I had taken for over a decade. It was a very difficult time for me and I had little support from the medical community to help me discontinue these medications. Olga gave me daily practices that made the transition so much easier. She recommended supplements to help my body support itself during this very intense detox. She helped me be less fearful of food and calories and helped me to see that, in order to support my body I needed to eat more regularly and eat higher quality food throughout the day. Working with Olga during this transitional time was a huge blessing and I am beyond grateful for all the help I received in her program. I am now off all of my medications ( including OTC meds).I am exercising daily, sitting in the sun daily, remineralizing my body daily and getting better sleep than I have in the past. Olga is beyond dedicated to helping her clients. She brings lightness, fun, humor, and passion into her work. I would recommend her to anyone looking to improve their health and their life.
Olga's Total Wellness Reset course was a game changer! The content was chock full of simple tips and tweaks to daily habits that improve overall well being. As a result I've experienced less chronic pain, better energy and focus, improved digestion, and increased mindfullness of the products that I injest and put on my body. I cannot emphasize enough that making the recommended changes was EASY and the results have been life altering. I highly recommend taking this course!
Olga is so knowledgable about wellness and nutrition! She lovingly shared her knowledge with us in a nonjudgemental way. She incorporated all aspects of wellness in her program in an easy to understand and implement way. I have made some changes already and plan to make even more from all the info I learned.
What was the biggest GAIN for you taking this course? 
I got a lot out of the Total Wellness Reset, but I have to say that being more mindful about what I put into and on my body was my biggest gain. That simple change can make a big difference on our overall health.
What are 3 things that have changed for you?  
I am no longer dehydrated since applying the method tought in the course. I sleep better. I also have increased energy, broader knowledge of how the body functions, less inflammation and less pain. It has been a game changer.

Sign up today to experience the gains these clients have experienced.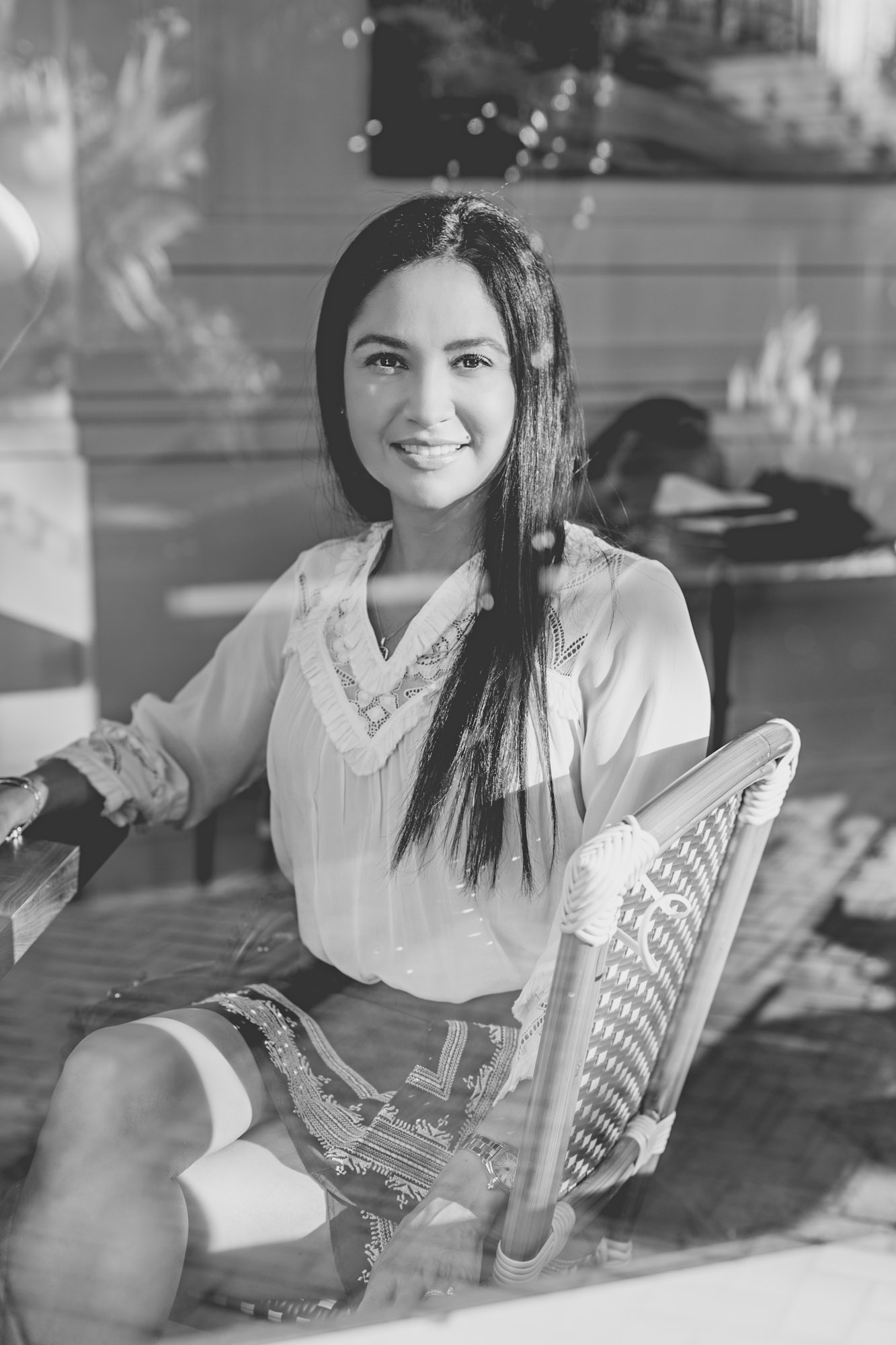 What moved the lever most for you? Hydration, Nutrition, Movement, Detoxing, or Energy tips?  
All modules were really all beneficial, but movement, nutrition, and hydration are tied for the win. I felt like I was good when it came to hydration but soon realized by a change in my energy and inflammation levels that it wasn't as good as I thought. Also, any brain fog that I had was completely lifted and I noticed that my body became very sensitive to caffeine because I had natural energy. I drink WAY less coffee than before! With regard to the movement portion – I've shied away from too much physical activity because of a chronic injury, but Olga made me realize that I can still accomplish movement without agitating the injury. Nutrition – I loved the easy swaps to what we normally pick up at the grocery store. I shop for food completely different now!